Finances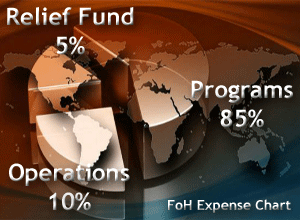 Financial Integrity: FACE of HARVEST (FoH) is an IRS 501(c)(3) registered tax-exempt organization. The "Relief Fund" is a reserve for Emergency Disaster Relief Response. "Operations" are the funds that keep FoH running including overhead and staffing. "Programs" are all FoH field-work, info @ Programs.
Each program director and missionary raises his or her own support for their project. We ask our Christian friends to support their local churches first. Then we kindly ask that you prayerfully consider giving to FoH. Any support is welcome. We particularly appreciate those who include our FOH in their missions giving on a recurring basis. For those wishing to support our work, we have provided a secure online donation page with a simple, but secure setup process.
FoH issues tax deductible receipts at the beginning of each calendar year. Individuals may also request to have a single receipt at any time.
Financial Accountability: FoH is governed by a U.S board of directors that meets annually. The executive director is advised by the FACE OF HARVEST board of directors and executive staff, consisting two co-founders, six directors, and a chief-counsel. Collectively the team discusses and votes upon strategy and personnel.
Any contributor to FoH can request our last audited financial statement. An independent auditing firm of certified public accountants conduct our yearly audits.
We are busy in the harvest-field! Why don't you come join us?